What do we mean by "Brainstorming"?
Brainstorming can be broken down into a few categories as follows:
1. Learning how to think about your job
2. Learning about your product
3. Planning your sales strategy
So lets look at each of these.  But first I need to deal with something…
This is not about Positive Thinking
Although I believe that positive thinking works and positive affirmation has its place, brainstorming is not about positive thinking.  The reason I say that is because knowledge creates confidence and confidence creates positive thinking. There is a "sales knowledge set" that will give you a natural ability and confidence to think positively.
You won't have to try to think positive.  Most often, that is a futile effort anyway. You can say "I am Purple", "I am Purple", "I am Purple", "I am Purple" all day long and it won't make you purple. In the same way, telling yourself that you can do something without specific and accurate knowledge on how to do it, will do nothing for you.
This is the formula I believe in:
Knowledge = Confidence = True, Effortless, Positive Thinking
So, now that we have that out of the way, lets talk about Brainstorming
Learn How To Think About Your Business or Job
The Profession of Selling is always a choice.  You don't have to be a salesperson.  You don't have to sell the product that you or your company handles. You have made a choice to start a business selling this product or to work for the company you work for selling the products you sell.
So before you can sell properly, you need to get a few myths out of your head…
"A good salesperson can sell anything." or "A good salesperson can sell ice to an Eskimo." NOT

WHY THE ABOVE STATEMENTS ARE NOT TRUE:
Someone who can sell anything to anyone or ice to an Eskimo would be better defined as a con-artist not a salesperson. The term con-artist comes from the word "confidence".  A confidence-artist is someone who is good at gaining the trust of others by any means including dishonesty. They pretend to be honest and they sell products including their fake friendship that will offer no benefit to their customers.  They may see themselves as smart but they usually aren't.  They have a false/fake confidence in products that will do no good for customers.
SO WHAT IS A GOOD SALESPERSON?
A good salesperson is honest.  He sells a product that he understands and believes in.  He sells a product that benefits his customers.
His products may not be perfect. But he understands that NO product is perfect. Think of this… The last time you bought a car, was it perfect?  Was it brand new or used?  Was it within your budget exactly?  Did you get the exact color of interior and exterior that you envisioned? Was everything in that car placed exactly where you would like for it to be placed? Was there a single nick or dent in the paint?  Did you buy it anyway?
In most cases, the answer to the above questions are NO, yet you bought the car anyway.  Why? Well unless you have unlimited money, you compromise to some extent on everything you buy.  Our purchases are the best we can find or negotiate for the money we can spend at the time we are buying. So we buy "the best" product for us at the time we want to buy.  But we never buy perfect products.  Such a product doesn't exist.  And the job for a salesperson is to help customers to make the best decisions for their time and money.
So, AFTER researching your product, industry, competitors, and customers, you need to make a conscious decision that this is a product or service that can help certain types of people.
A Good Salesperson Understands His Product and His Industry
He takes the time to study his industry and his products and he understands his product's place within the industry.  He knows whose products are more durable and less durable.  He knows what comes with his offer and what comes with his competitor's offers.  He knows his prices and he knows his competitor's prices as best he can.  He  knows how his product(s) work, inside and out, and he knows his competitor's products good enough to be able to differentiate them from his own. He is an expert in his field and through that knowledge brings true value to his customers while they are considering the types of products he offers. These are the beginning qualities of a "Good Salesperson".
Understand the Value of Your Expertise
As a salesperson you have the unique advantage of talking to several players that are in the same business or position.  If you're talking to enough customers you're able to observe the differences between those that are most successful and those that are struggling.  You also get to learn about your competition from customers you talk to and even from interactions with your competitors.
If you try, It shouldn't take you too long to become an expert in your field.  You'll begin to understand what your customers need to do to succeed and you'll learn the role that your product can place in that success.  If you're listening, you'll learn the strengths and weaknesses of your competitors. Write these things down and think about them.  Mostly think about the strengths of your product and use those strengths in your sales strategy and in how you frame your product to your customers.
In addition to what you learn from your customers and competitors, you should be researching your products and your competitor's products online as well.
What Is A Good Product?
Once you take the time to understand your product and your company, you should be able to find its place in the market. Is it a good value?  Is it the longest lasting? Does it have the best guarantee? Does it fill a special niche that no one else does any better? How is your product or company unique?
To succeed, you've got to find the answers to some of those questions.  If this is your business, you can't succeed without the proper answers to some of those questions.  If you are working for someone else and can't find the answers to those questions after a reasonable attempt, you can't either.
Talk to your customers; talk to your manager; research your competitors.  Either find the answers to those questions or move on to a product or service where you can.  You always have a choice and it is not in your interest or in your company's interest for you to remain in a job/business selling a product or service that you can't reasonably justify.
So How Do You Become a Good Searcher?
This is one of those areas where the beauty of technology comes into play.  It is easier than ever to become an expert in your field.  Today's great salespeople have access to most of the world's information online. But do you know how to mine it?  Do you understand how to use search engines to their greatest capacity?  Do you spend hours looking for what you want online?
You can save a lot of that time by taking one or two hours to learn a little bit about how to search.  We'll use Google as our example since they are likely to be your search engine of choice for a long time.  Here are a few things you can do to learn about your products and your competition right now and to ensure that you will be the most informed up to date salesperson that your customers will ever meet long into the future.
Use Google's Advanced Search…
In addition to becoming great at using search, you should learn how to use Google Alerts.  To begin, go to "alerts.google.com". If you don't already have a Google or Gmail account, set it up. Then using the same tools that you learned above regarding searching effectively, set up alerts that will help you to be one of the first in your industry to learn about new information and news that comes out.  Set up alerts for your company name, for your most impoortan customer's names, and for your top competitor's names. Set up alerts for key terms that are especially suited to your trade.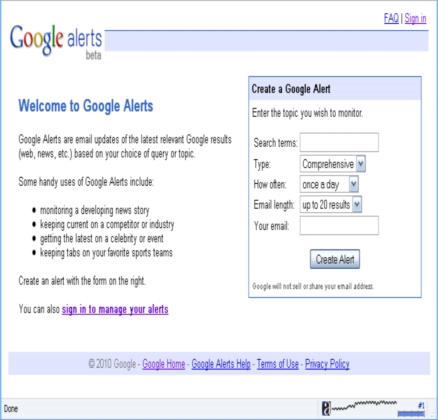 Set up an email list of your best prospects and customers and start a simple newsletter and send out the latest news that you gain.  Send your prospects and customers a note of congratulations when positive news about them comes out or a note of comfort when something doesn't go their way.  This is a simple way to keep your name in front of them and to build your reputation as a current and valuable resource. When the time or opportunity is right, that prospect will have your name foremost in their mind and you won't have to resort to any kind of pressure to get them to buy from you.
By getting late breaking news, ideas, and information first, you can gain a reputation for being a valuable resource within your industry.
A Story About The Importance of Selling and How to Think About Your Job
I grew up in a small town on the immediate west side of Chicago.  If you lived in Los Angeles, it would be the equivalent of East LA. It was a tough place to raise a family. There were a lot of problems with crime, corruption, and drugs.  But this was where my mom and dad could afford a small home and it's where I was raised.
My parents had very little in terms of education.  My mom was raised in Sicily in family of 11 kids.  She made through  about the 2nd grade.  My dad graduated from high school on the south side of Chicago and joined the Army within a year or two of graduating.  So when I was growing up, there was no discussion of college.  It just wasn't something that our family understood or thought much about.
Fast forward a few years… I was married, had two children (boys), began making a decent living selling cookware door to door, and moved to California with my family.  Some dreams were coming true, but sadly, I was convinced that we'd never be able to send our two sons through college.  Reading about the projected costs of college being tens and hundreds of thousands of dollars, I was discouraged.  I just didn't see how we could amass the projected amounts needed by the time my boys were graduating from high school.
But around his junior year, we began getting calls from the Art Institute of Los Angeles.  I guess my son had filled in an interest form at school.  Every time the lady called (I can't remember her name), I said, "We're not interested; I can't afford to send my son to college."  She persisted over the coming months in a pleasant way and I enjoyed talking to her.  But each time she called I'd eventually end the call with the point that there was no way we could afford it and that I wasn't interested in loans.
Finally one day, with a little nudging from my son, I agreed to at least go and speak with her.  By the end of our conversation, my life was changed.  As a result of our conversation with that lady, my son ended up graduating with a Bachelors Degree in Computer Science from the University of California at Irvine (UCI). That lady changed my life and my kids lives because she showed me something that I had never been exposed to as a youth and even as an adult. It was possible to send my kids to college.  There were resources and help that I didn't know about because I had never been exposed to them.  Her pleasant persistence was a blessing to our family forever.
If someone asks you what you do for a living, don't tell them you are a salesperson.  Tell them that you help people to make good decisions in the realm of your product or expertise; that you advise people in  your particular realm.
You are not just in the business of selling.  With your specialized knowledge, you may be in a position to change people's lives forever!  Don't discount the importance of what you do!
Notes: In my blog, I will use masculine and/or feminine sense throughout.   I don't want to think about which I'm referring to or use "he/she" throughout every article.  I hope you  understand.  The principles are universal and are not unisexual.