One of my favorite bloggers, Alan D. Mutter, summed up the emphatic difference (that I've observed in my own home) between us older readers and the next generation of news consumers.  Our kids are not going to get news the same way we have.  And advertisers need to take note if they want their businesses to survive the next generation.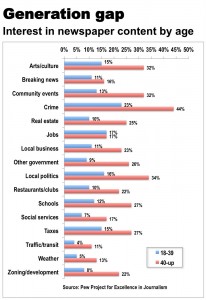 Here's some of Mr. Mutter's article…
A new study shows the dramatic degree to which consumers under the age of 40 have repudiated newspapers.
The must-read report found an alarming disconnect between younger and older consumers in the value they put on newspapers as sources of information about their communities.
When asked by researchers to identify their preferred source for crime news, 44% of those in the 40-plus category named newspapers, as compared with just 23% for the younger cohort…
Read the story… | Source: Newsosaur | Date posted: 10/3/2011
Here is the actual Pew Research report…
Read the report… | Source: PewInternet.org | Date posted: 10/3/2011